DexKo supplies a variety of options for safely and securely transporting boats, jet skis, and various other watercraft.
DexKo Global offers high-quality, high-tech components and accessories for transporting watercraft. Focused on crafting high-quality and durable trailer axles, brake systems, and suspension solutions, our customers rely on us for a wide range of components and system solutions.
Market Applications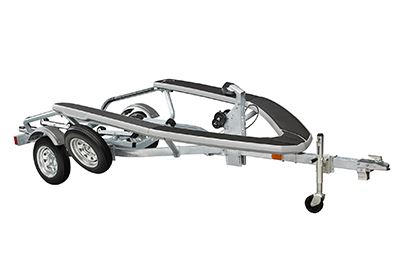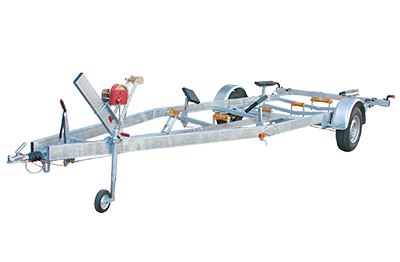 Marine Trailers
A leading provider of trailer components to the recreational watercraft trailer market, DexKo is focused on providing high-quality, innovative products, as well as unparalleled customer service. Often customizable, components offered can be adjusted to suit a variety of applications. Constantly innovating to provide newer, more efficient components, DexKo offers a variety of solutions for trailers used to transport boats, jet skis, and much more.
The key to securing and transporting watercraft safely, a chassis forms the basis of marine trailers. Working to improve driving dynamics and increase driving comfort, DexKo Global's chassis technology offers an unrivaled level of performance. From lightweight construction with a hot-dip galvanized chassis to a wide-track chassis with single-wheel suspension, 2-axle, 3-axle, and 13-inch chassis variants are also offered. Secure a high-performance chassis for a marine trailer build with DexKo Global's innovative chassis variants.
Often the main catalyst for a bumpy or smooth ride, shock absorbers should offer superior engineering and design. DexKo shock absorbers are designed with the highest demands in mind and are developed to meet the strain of each specific application. Easily customizable to meet the needs of marine trailers, shock absorbers are built to withstand rough terrain and heavy watercraft.
Axles
A high-quality axle is necessary when towing any type of watercraft. Properly securing a trailer to a vehicle for towing and transport, an axle must meet the capacity needs for a wide variety of applications. With a strict quality system in place, as well as American-based manufacturing, DexKo offers some of the top-performing and most reliable axles in the trailer industry.
Light-duty axles: DexKo's high-quality torsion axles and sprung axles for light-duty applications are tested to meet from 500-pound to 8,000-pound capacities.
Medium-duty axels: DexKo's high-quality torsion axles and sprung axles for medium-duty applications are tested to meet from 8,000-pound to 15,000-pound capacities.
Heavy-duty axles: DexKo's high-quality torsion axles and sprung axles for heavy-duty applications are tested to meet from 27,500-pound to 15,000-pound capacities.
Rated for an overall capacity range from 2,000 lbs. to 27,500 lbs. per axle, DexKo's innovative air suspension system is easily customizable for a wide range of applications. Designed to provide the smoothest ride for marine watercraft, the unique suspension system can be delivered as a complete assembly, immediately ready for mounting to a chassis.
Whether moving a boat to an ocean or a canoe to a lake, transporting watercraft can be disastrous without a reactive brake and friction system. Providing one of the broadest lines of hydraulic drum, hydraulic disc, or electric drum trailer brakes available, DexKo designs each brake to meet the stopping power needs of a designated capacity. Using DexKo brake lines, marine trailers move and stop with ease on even the roughest terrain.
Whether you're looking for a high-performance brake line or a secure chassis design, contact DexKo Global today for a wide range of options and innovative solutions.
Related Products
Related Brands