August 30, 2019
The Functions and Uses of a Livestock Trailer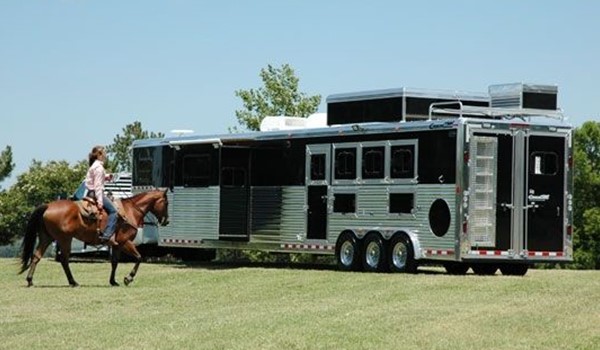 What is a Livestock Trailer?
A livestock trailer, also known as a stock trailer, is an unpowered vehicle that is towed by a powered vehicle, used in the transportation of cattle, horses, pigs, and other farm animals. Whether the animals are being transported to county fairs or processing plants, it is important to ensure that they are comfortable and safe from injuries.
Functions of a livestock trailer
The right livestock trailer for a farmer's needs is bound to offer numerous benefits when transporting farm animals. Here are a few functions of a stock trailer.
Easy and convenient transportation – transporting livestock can be a hectic activity. The situation is even more difficult when transporting a larger number of farm animals. A livestock trailer makes it easy and convenient to move the animals. By using a single vehicle to tow the trailer, transportation of animals becomes cheaper.
Safety – livestock trailers have interior dividers, well-designed floors, and interior padding, all of which are designed to ensure animals are comfortable when being moved. The structure of the trailers is such that animals will not hang their heads out, effectively protecting them from injuries.
Comfort – apart from the interior padding, trailers are designed to provide plenty of ventilation to ensure animals are comfortable. Even without true windows and roof vents, air flows freely in the trailers.
Challenges associated with livestock trailers
People who move animals frequently may encounter several challenges when using stock trailers. Here are some of the common challenges.
Stock trailers are noisy – trailers that use screws, bolts and mechanical fasteners may produce metal on metal scraping noise when in motion. Such noise can cause stress for animals considering that most of them become nervous about riding in these vehicles.
No bells or whistles – frequent traveling over long distances may be difficult because trailers do not have facilities for storage or comfort. People will not get spaces to store their personal effects or a tack room for tossing a cot.
Shifting animals – in case the animals cannot find a good place to lean against when the trailer turns, speeds or slows down, they will keep shifting back and forth. This will change the balance of the trailer, making it hard to pull.
Trailer features that compromise safety
When looking to buy a livestock trailer, it is important to ensure that it has the right features to enhance the comfort and safety of animals. Poorly designed butt and chest bars can result in serious injuries if the animals get trapped underneath them and try to stand back up. Weak interior dividers will not be able to stand the force that comes with shifting, while small windows will not ensure proper circulation of air. Little interior padding, weak wall linings, and aluminum flooring will also cause fatigue to the animals' legs.
Actions to take to ensure comfort and safety
To ensure comfort and safety, latches and safety chains should be fastened securely, trailer brakes should be inspected, wheel bearings replaced and tires examined. Electric wiring and connections must be in good working condition, and the trailer floor should be sturdy and clean.
Moving farm animals safely starts with choosing the right livestock trailer. DexKo Global has developed systems to make it easier to transport animals safely and comfortably. The livestock trailer is updated for 2019 to ensure it meets the needs of farmers and transporters. Contact us today to learn more about the product and place your order.